Dentures / Overdentures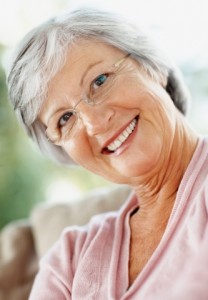 When you have missing teeth, you have many options available to you, including dentures.
Dentures are made to resemble your natural teeth very closely, and they will help you smile with confidence once again. Dentures also help to fill out your face and profile, reducing the facial muscle sag that is associated with missing teeth. Many people are familiar with dentures, but not many people know that there are actually several kinds of dentures. Our dentist in Roseville, Dr. Beatriz Galofre, offers two different kinds of dentures:
Conventional Dentures – Conventional dentures are completely removable, and they can be placed in your mouth after all of your teeth have been removed and your gums have healed.
Overdentures – Overdentures are fit over and stabilized by a small number of natural teeth or dental implants, and they could be removable or not removable.
Although conventional dentures are a great option for many people, overdentures can help to relieve some of the biggest challenges that come with conventional dentures. Overdentures are stabilized in the mouth, which allows you to chew more effective and speak more comfortable. Overdentures can also help to minimize bone loss and reduce gum irritation. Many patients who have tried overdentures find that they feel much more like their natural teeth than conventional dentures, and the procedure is more cost effective and less invasive than full-mouth dental implants.
Every patient is different, and what works well for someone else, may not be the best option for you. We offer a wide variety of options for correcting missing teeth, and the only way to know for sure which option is the best for you is by scheduling an appointment with our dentist.